Mouthwatering imitation crab recipes are both budget-friendly and delicious! Explore an array of options, from sushi to pasta salads to crab cakes and pizza.
Imitation crab meat recipes can be just as satisfying as the real thing; although we do love baked Crab Legs with garlic butter sauce or cajun sauce when budget allows.
If you want to know more about imitation crab, check out our What is Kani and Kanikama guides! Both have everything you need to know about using this alternative.
Imitation Crab Meat Recipes
Kani Salad
Krab salad loaded with crab, vegetables, Panko bread crumbs and a creamy dressing is ready in only 15 minutes!
Spicy Krab Roll
Make a delicious Spicy Krab Roll at home in under 30 minutes! This spicy kani roll is filled with Kani Salad and seasoned sushi rice. It includes many of the same ingredients as our beloved Sushi Bake. You'll love making sushi roll recipes at home!
Sushi Bake
Sushi Bake is like a deconstructed California roll casserole. It's loaded with crab (Kani) and cream cheese and vegetables.
Imitation Crab Nigiri
Use flakes or sticks of imitation crab to make Nigiri Sushi with our popular sushi rice and sushi sauces.
Temaki Sushi
Simplify sushi night by making Temaki Sushi (hand roll sushi). Just load nori sheets up with crab, sushi rice and your favorite sushi fillings, and you have yourself a party!
Imitation Crab Cakes
Imitation crab cakes are loaded with krab, spices and the classic flavors you love in a crab cake.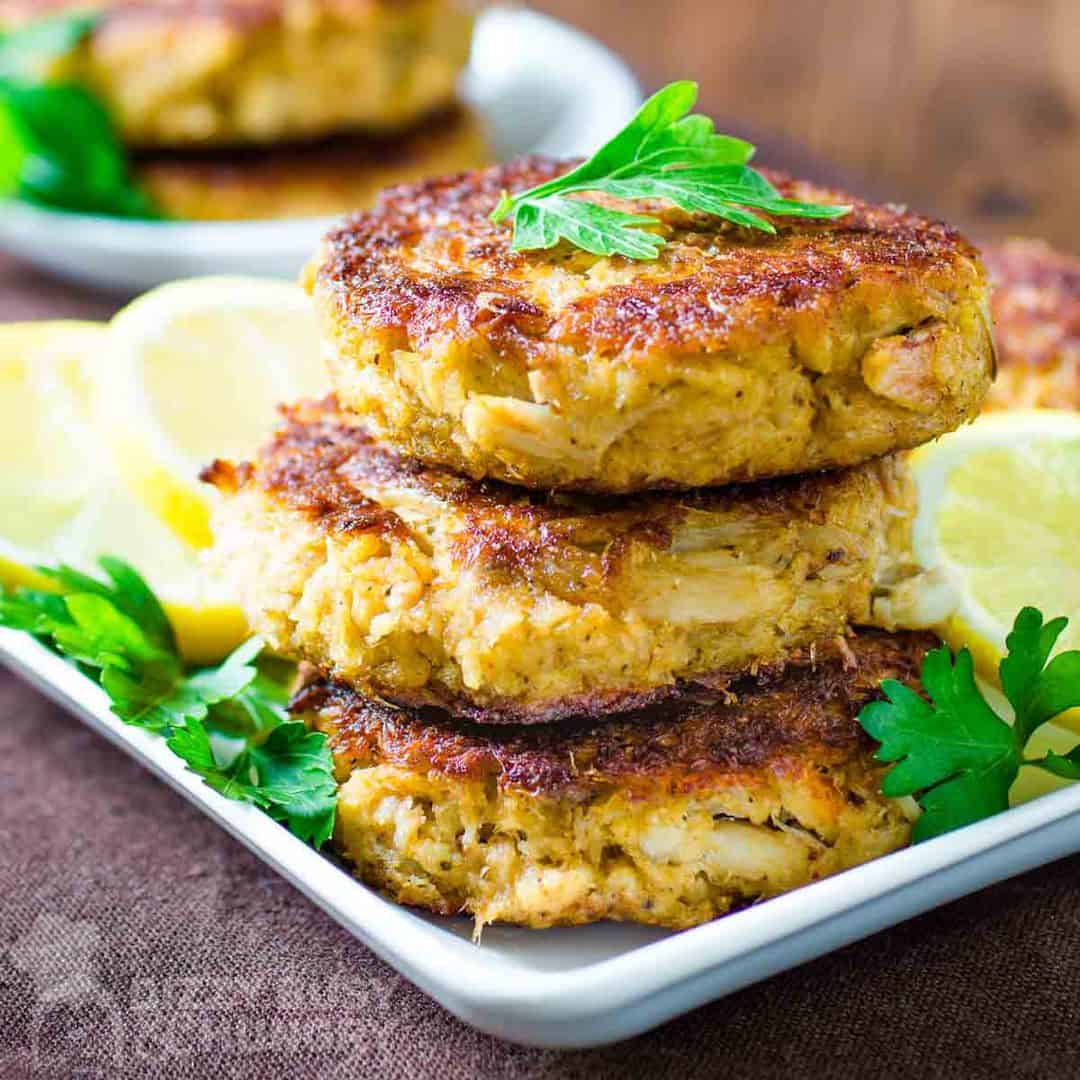 Air Fryer Crab Rangoon
Air fryer crab rangoon using kanikama! Crispy wonton wrappers are filled with kani, cream cheese and green onions.
Crab Rangoon Dip
Crab Rangoon Dip with crispy wonton chips! This hot imitation crab dip is the perfect party appetizer and is easy to make!
Seafood Pasta Salad (Crab and Shrimp) - Foxes Love Lemons
Seafood pasta salad is like New England in a bowl! Creamy pasta shells tossed with Old Bay, shrimp and crab, lemon, onion, celery and herbs.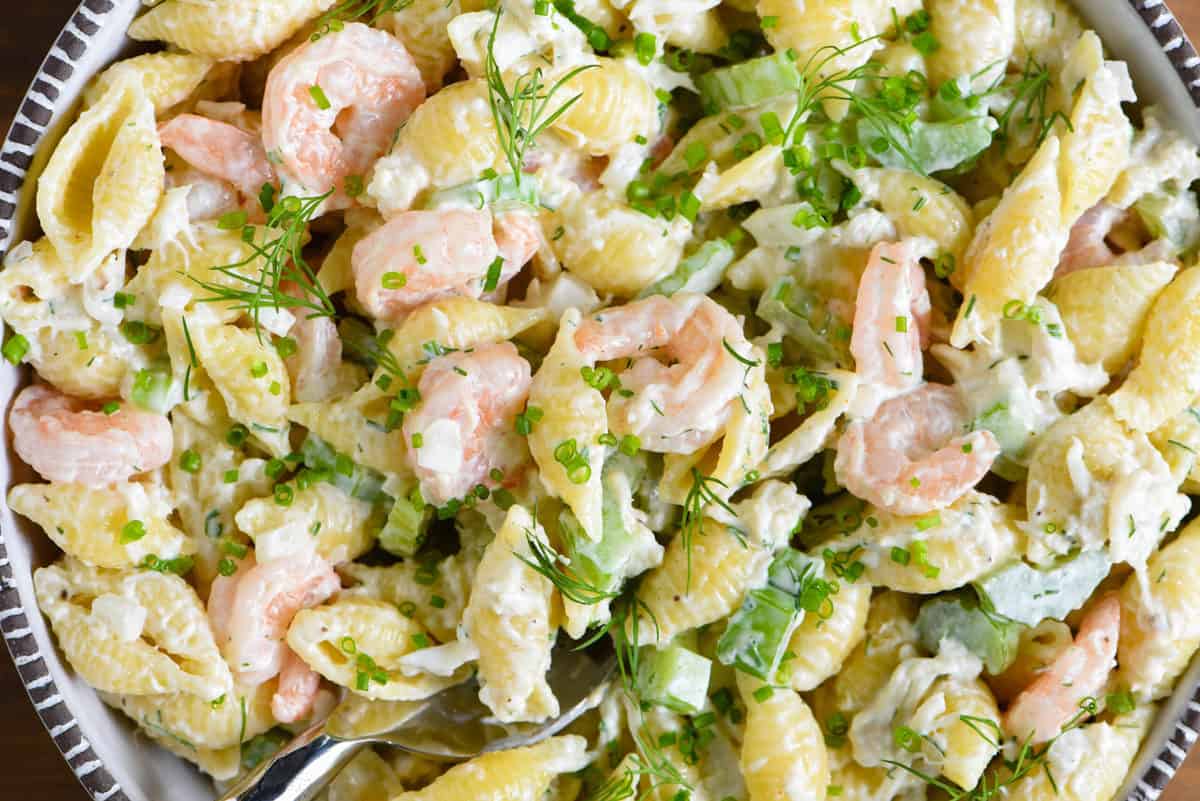 California Roll Sushi Bowls - Little Sunny Kitchen
Easy California Roll Sushi Bowls feature perfectly cooked Japanese sushi rice, krab, bright veggies, and spicy sriracha mayo sauce.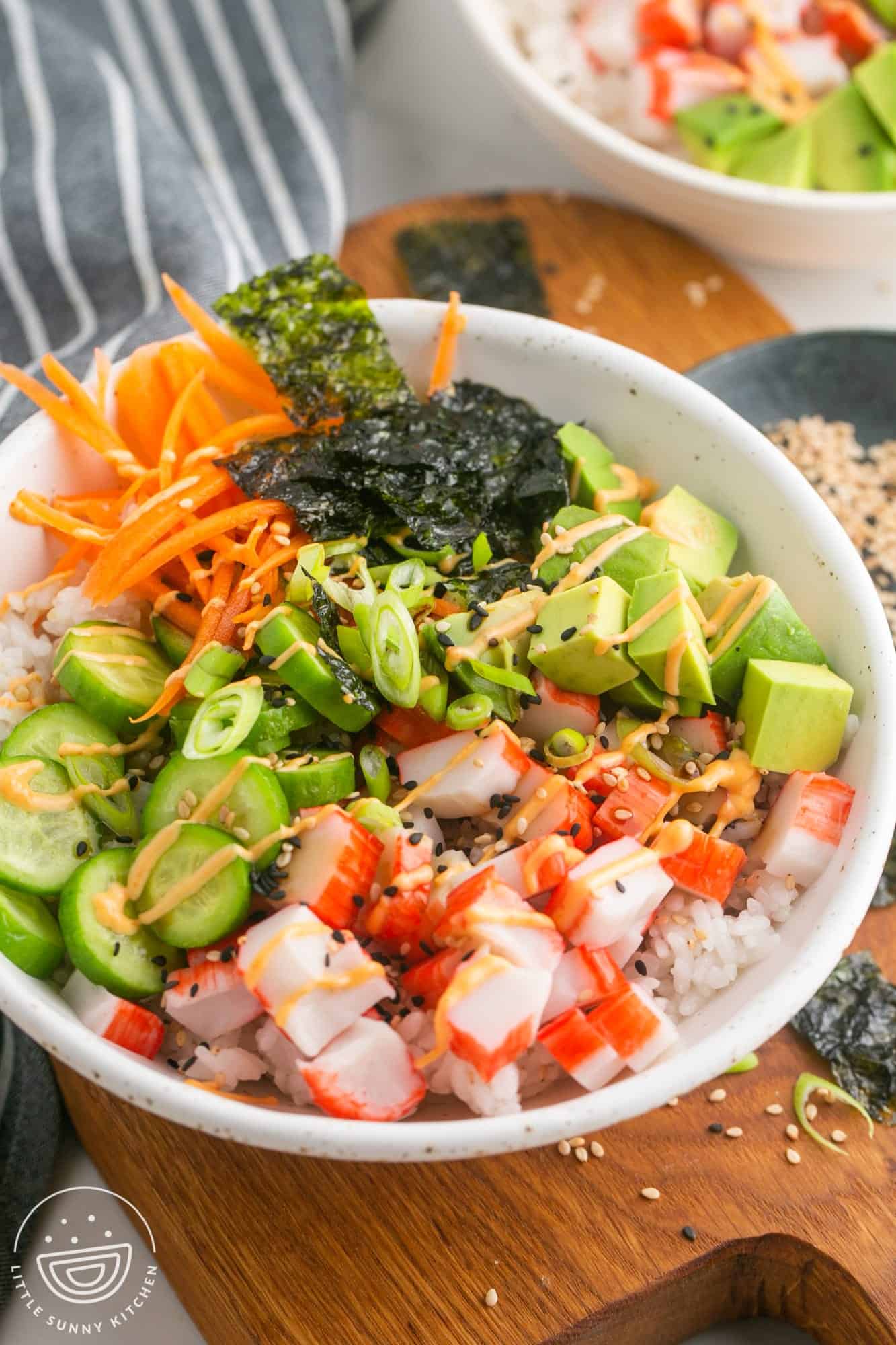 California Roll Sushi Recipe [+VIDEO] 🍣 MasalaHerb.com
Make your own california roll at home from scratch within minutes! Healthy sushi made easy. With how to video and flavor options.
Shrimp and Crab Louie Salad (Louis Salad)
This shrimp and crab souie salad (or Louis salad) is an iconic American classic filled with seafood, eggs and topped with a creamy dressing.
Crustless Crab Quiche Bites
These Crustless Crab Quiche Bites are made with crab, Swiss cheese, and simple seasonings, resulting in great flavor and a creamy texture. Super easy to make and perfect as a snack or appetizer.
Southern Seafood Salad
Creamy southern seafood salad is filled with krab, shrimp and tons of flavors from the south!
Shrimp and Crab Pasta
This crab and shrimp pasta is made with a kani, shrimp, garlic and noodles tossed in a creamy butter sauce.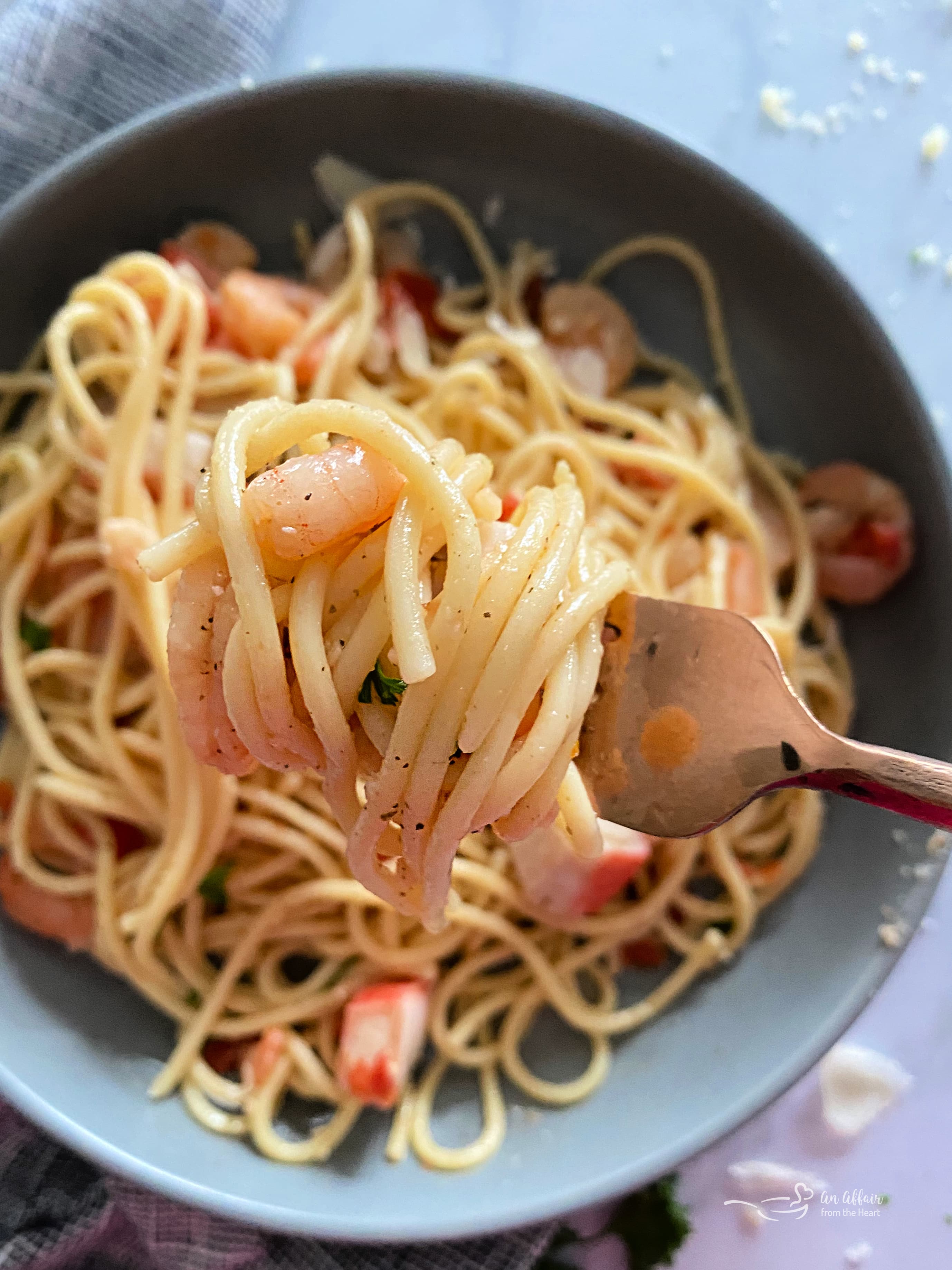 Bacon and Crab Pizza
Delicious bacon and crab pizza! Loaded with crab, crispy bacon, jalapeños and other pizza topping favorites! If you haven't had crab pizza before, you're in for a treat.
Crab Stuffed Mushrooms
With a cream cheese and crab meat filling topped with crispy Panko crumbs, these creamy Crab Stuffed Mushrooms are classy enough for holiday entertaining and easy enough to make all the time!
Easy Crab Bisque - Rich & Creamy!
Creamy Crab Bisque can be made with krab! Loaded with a ton of spices, cream and seafood flavors. Come winter this is one of our favorite soup recipes.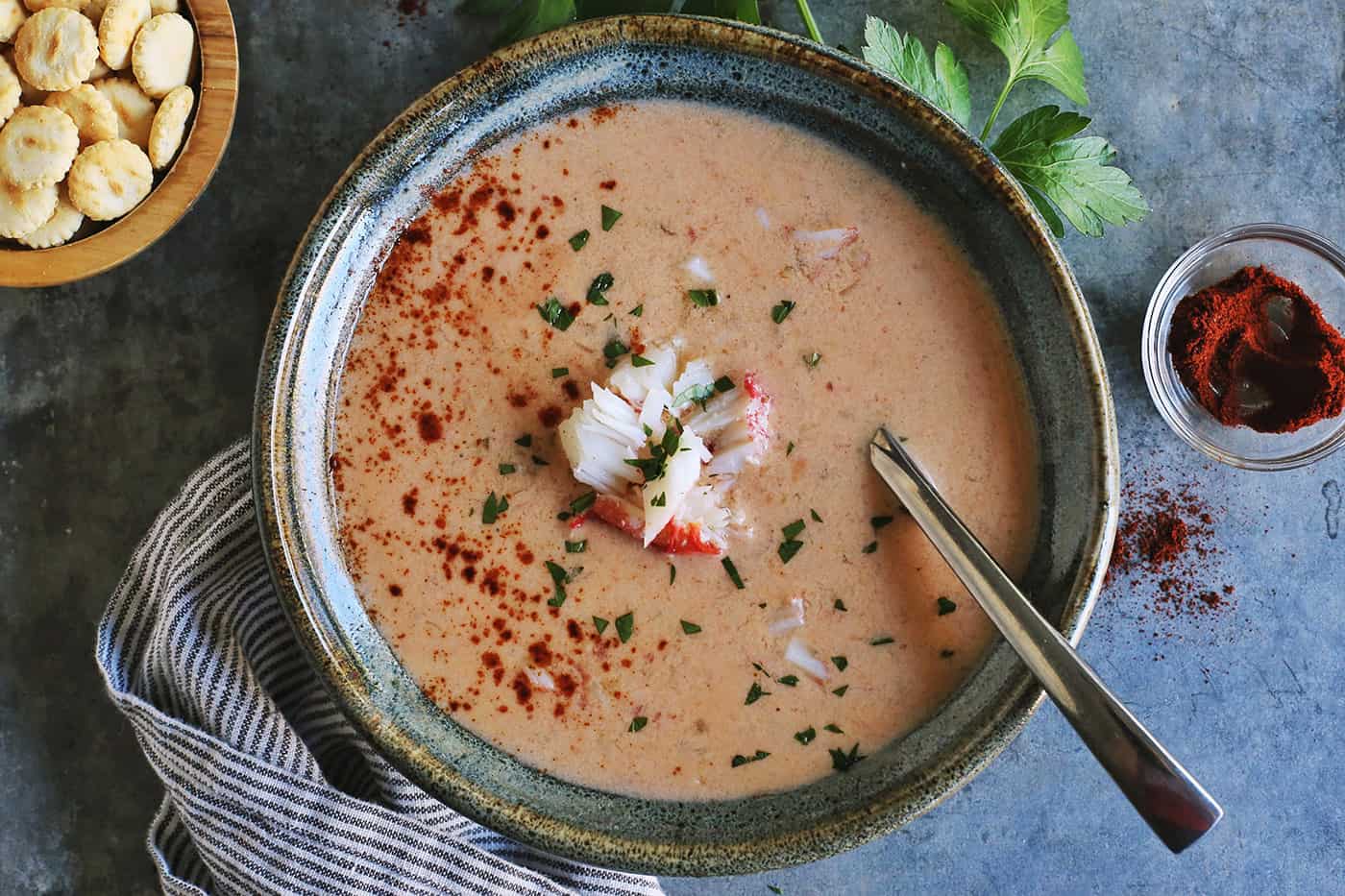 Maryland Crab Cakes Sandwich (with Old Bay)
Maryland-style Crab Cake Sandwiches! Use imitation krab for lump crab, along with, old bay, and some fillers to make the best crab cake recipe.
Recipes Imitation Crab
The below recipes can easily convert to kani recipes. Just use krab in equal parts to the seafood called for:
Mexican Shrimp Cocktail
Turn this Authentic Shrimp Cocktail into a Krab ceviche by using kani. Make it a zesty seafood dish with marinated kani, tomato, onion, cilantro, jalapeno, and lime juice. Make it mild or spicy!
Squid Ink Pasta
Throw in imitation crab to the garlic butter sauce before tossing with squid ink noodles to make this Squid ink pasta dish into Squid Ink Pasta with Krab.
Additional Resources and Guides
Best Wine With Sushi
Sushi vs. Sashimi
Types of Sushi
*Note – any imitation crab recipes using real crab can be made using imitation crab in equal parts. No other edits are necessary.