Smoked Corned Beef is one of the best way to make corned beef recipe for St. Patrick's Day! Smoked corned beef brisket is cooked low and slow to develop a perfectly seasoned crust and tender interior. Perfect to use on a Reuben Sandwich.
Serve corned beef brisket with a side of Horseradish Aioli or Horseradish Sauce for Prime Rib for added flavor.
More popular smoker recipes: Smoked Tri Tip, Smoked Picanha Smoked Prime Rib, and Smoked Beef Tenderloin.

Smoked Corned Beef Brisket
As with our Sous Vide Corned Beef and Instant Pot Corned Beef, this tender corned beef recipe utilizes a store bought, pre-cured corned beef (salt-cured beef); the one that includes a pickling spice packet.
Corned Beef Spices
Making homemade corned beef from a beef brisket? No worries! It's easy to snag a spice mix on Amazon or whip together a homemade corned beef spice packet. Recipe coming soon!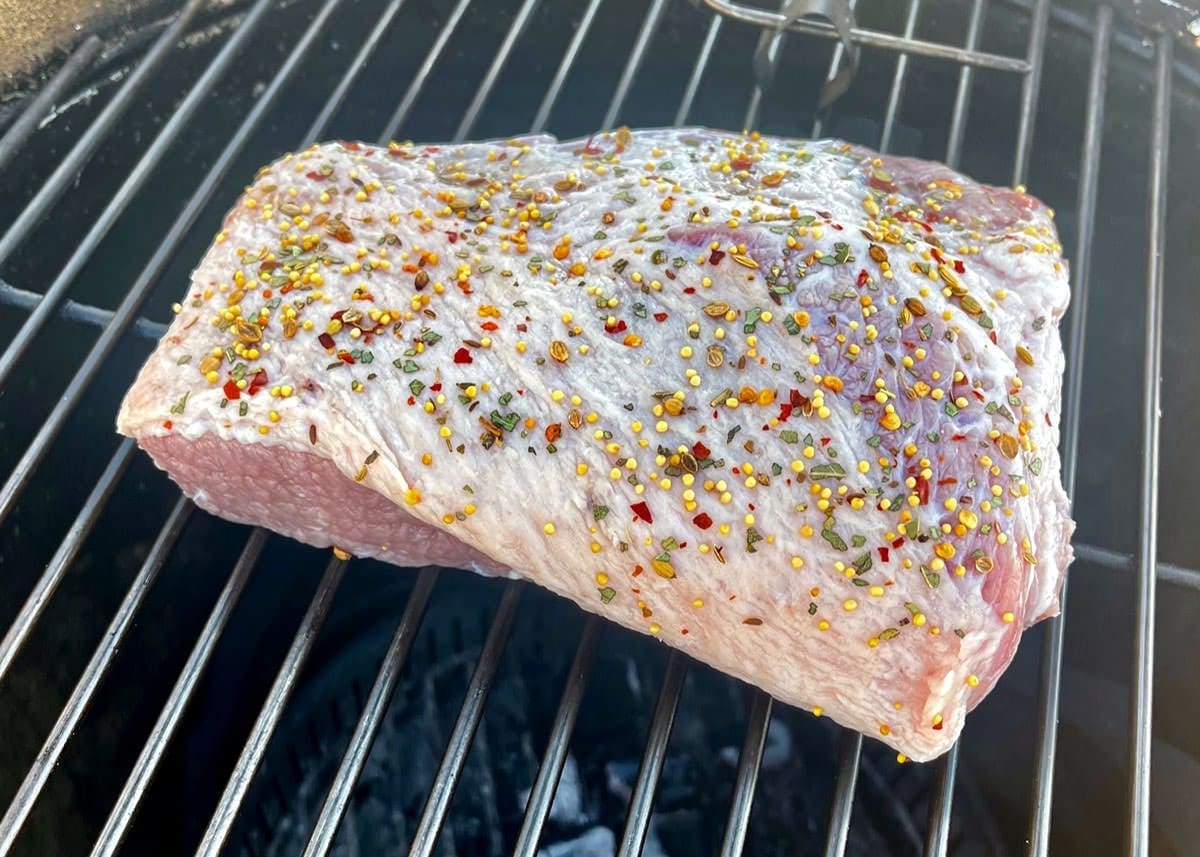 Temperature
For food safety, the internal temperature of corned beef needs to reach 145°F, however the collagen doesn't begin to break down until 160-180°F. For optimal texture, we recommend cooking until the internal temperature reaches 190-205°F.
Time
It takes about 4-5 hours, start to finish, to make Corned Beef on the smoker. The first round of smoking takes approximately 2.5-3 hours while the second round takes approximately 2 hours.
It's hard to give an exact estimate as there are many factors to consider including the shape of the meat, size of the meat and even outdoor weather.
Corned Beef on Smoker
There's two steps to making corned beef on the smoker: the initial cook time, where the roast sits right on the grill, and the second cook time where the roast sits in beef broth to keep in the moisture.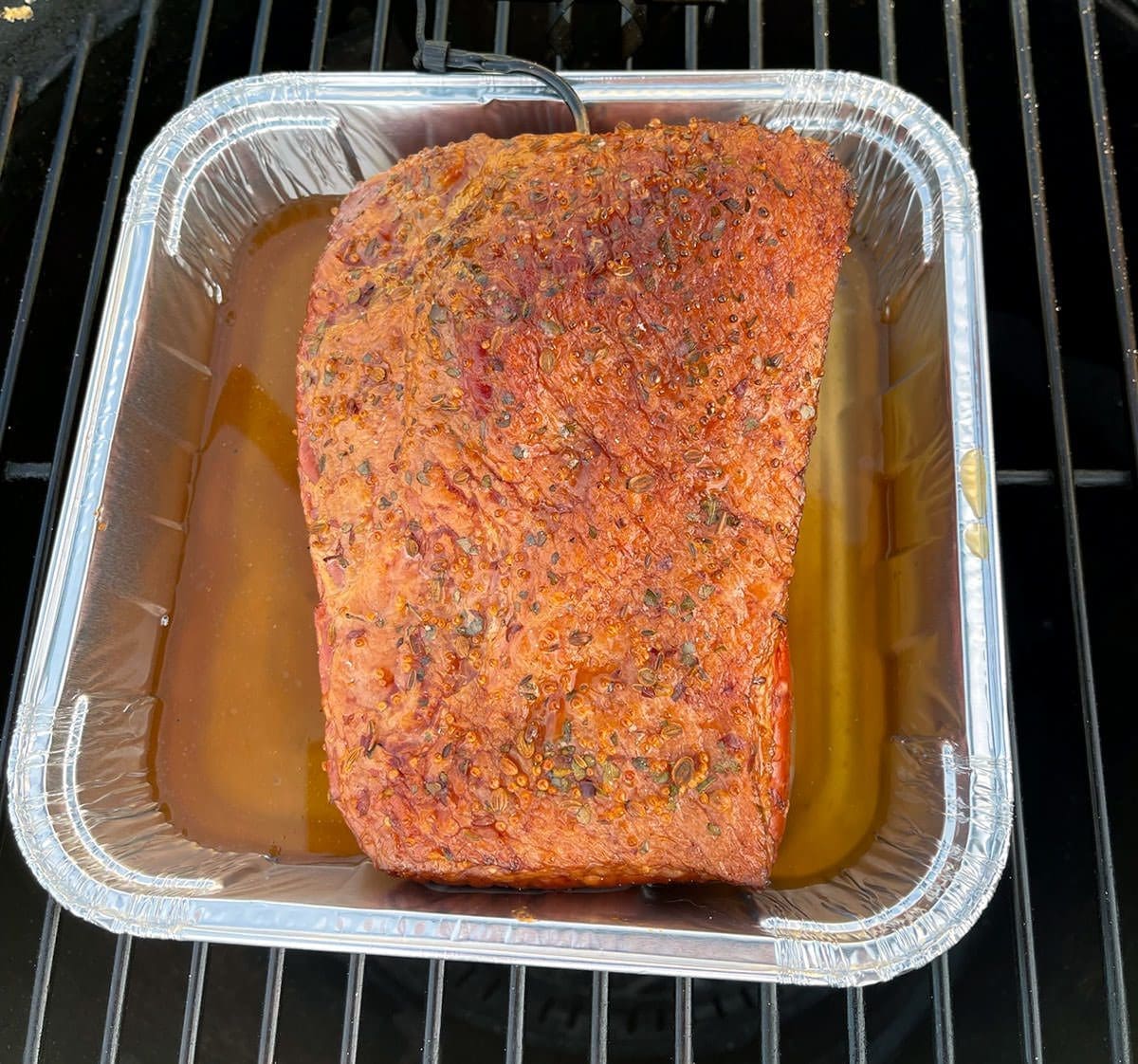 Smoking Corned Beef
This recipe for corned beef can be made on a charcoal or electric smoker. We provide detailed instructions for both methods in the below recipe card. For beginners, here's a quick cheat sheet for each type of grill:
Charcoal
Using charcoal or wood is a bit more "manual" than using an electric smoker. This is the method we prefer, simply because we enjoy managing the grill.
To prep a charcoal grill, pre-heat the coals until just washed over. Dump them on the far side (either left or right) of your grill and open the vents to 25%. Create smoke by placing wood chunks directly on the pre-heated coals. You want to maintain the temperature between 225 – 250°F.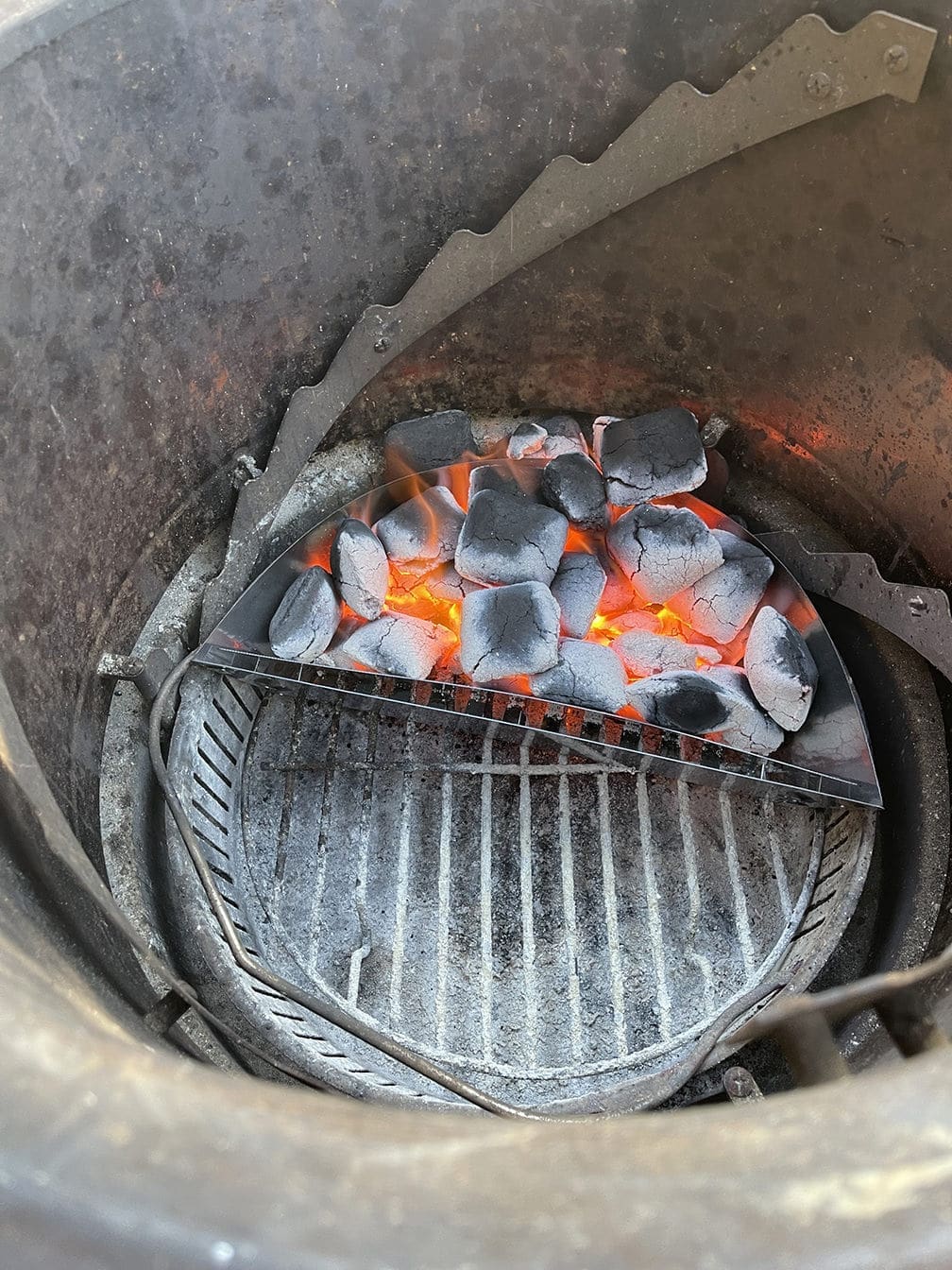 Pellet/Electric Smoker
Pellet smokers are awesome for maintaining smoke and temperature without much effort. They've exploded in popularity over the past few years. Pellet smokers are excellent for beginners and advanced cooks. Traeger Corned Beef should be on your list.
To prep, pre-heat your grill to 250°F. Follow the manufacture's instructions to get an even smoke.
Gas Grill
Unlike most of the other smoker recipes posted on Foodie and Wine, we do not recommend using a gas grill to make this recipe due to the very lengthy cook time required.
Wood Recommendations
When smoking corned beef, stick to a light or fruit wood, like pecan wood, cherry wood and apple wood as to avoid a competing flavor.
Supplies
Energy Source – Make sure to stock up on your selected energy source: charcoal, pellets, etc.
Thermometer – Always use a thermometer. Our go-to digital thermometer is the Thermaworks Dot.

How to Cut Corned Beef
As with most meats, you want to slice against the grain in thin strips (approx. 1/8 – 1/4″).
Cooking Corned Beef
Store bought corned beef is ultra salty. As such, you need to soak it in cold water to help desalinate. Let it soak in cold water for two hours, changing out the water every 30 minutes. Of course if you like things uber salty, no need to soak!
Recipe Tips
Try and grab a corned beef uniform in thickness for even cooking.
Corned beef pairs well with beer! Instead of using beef broth (Instant Pot Bone Broth), you can use a cup of flavorful beer, like Guinness.
Corned beef can be stored in an air tight container in the refrigerator for up to 4 days.
Always use a thermometer. You want to cook based on temperature not time. Our go-to digital thermometer is the Thermaworks Dot.

Smoked Corned Beef And Cabbage
Interested in making a plate of the classics?? Just add sliced cabbage, quartered potatoes and diced carrots when you add the beef broth to the pan. Make sure there is enough broth to cover all the vegetables.
Side Dish Ideas
Carrots and potatoes are the go-to side items when making traditional corned beef, however you could always go with Jiffy Corn Casserole, air fryer baby potatoes, or garlic mashed potatoes.
Pastrami vs Corned Beef
Pastrami and corned beef are very similar in terms of flavor and texture. The defining difference is the cooking method. Pastrami is beef brisket that's been smoked and steamed. Corned beef is brisket that's been brined and then smoked.

Wine Pairing Recommendations
Red Wine: Beaujolais, Pinot Noir , Grenache or Zinfandel.
White Wine: Pinot Gris, Riesling, Gewürztraminer or Grüner Veltliner.
Click To View More Popular Irish Recipes:
Steak and Ale Pie
Instant Pot Potato Soup
Shepard's Pie
Smoked Corned Beef Recipe
Ingredients
2-3

Lb

Store-bought Corned Beef With Spice Packet

(*Note 1)

2-3

cups

Beef Stock

(*Note 2)
Instructions
Pre-heat the smoker to 250°F. Aim to keep the temperature between 225 - 250°F, if using a charcoal grill.

Rinse the corned beef roast under cold water and pat dry with paper towels.

Rub the outside of the roast with the included spice packet.

Transfer the roast to the smoker, close the lid, and smoke for 2.5-3 hours, until the internal temperature reaches 165°F.

Remove the corned beef from the smoker and transfer to an aluminum foil pan along with the beef broth. Cover with aluminum foil and place back on the smoker and close the lid.

Smoke until the internal temperature reaches 190-205°F, about 2 hours.

Remove the corned beef from the smoker and let it rest for 15-20 minutes before cutting into 1/8"-1/4" slices.
Notes
Note 1 - You can use the store bought spice package or use your own favorite spice mix.
Note 2 - If you're using a pan larger than an 8"x8" you'll need 1-2 cups more of beef stock.
Nutritional information is just estimated.
Nutrition
Calories:
232
kcal
|
Carbohydrates:
1
g
|
Protein:
18
g
|
Fat:
17
g
|
Saturated Fat:
5
g
|
Polyunsaturated Fat:
1
g
|
Monounsaturated Fat:
8
g
|
Cholesterol:
61
mg
|
Sodium:
1499
mg
|
Potassium:
448
mg
|
Sugar:
0.3
g
|
Vitamin C:
31
mg
|
Calcium:
13
mg
|
Iron:
2
mg